Download the Guide to B2B Lead Management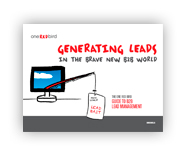 Finding leads, contacting them, and turning them into customers is the goal of business. That's no different than it's ever been. What has changed is the process and the potential benefits, which are greater than ever.
In the One Red Bird Guide to B2B Lead Management, we give you the skinny on how modern B2Bs are implementing lead management systems and tools including:
Lead definition
Lead nurturing
Lead scoring
Lead recycling
After reading this eBook you will be able to better define your lead management flow and how to identify and drive leads through to sales for conversion into revenue.